Twilight Fans! Find the best Twilight merchandise, collectibles, clothes, jewelry, and more. Disclosure: We make a commission off of some of the links.
Looking for the perfect addition to your Twilight costume? Change your eye color with vampire contacts. Whether you are looking for the "thirsty" red vampire eyes or the golden Cullen family eyes, you can find colored contacts in a couple of different places.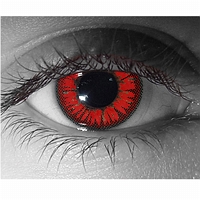 Here are three online merchants where you can get red, gold, and even wolf yellow contacts:
ACLens: $26.06 on sale; Called "Vampire Red" and "Edward Cullen Gold"; Free Shipping on Orders over $99. New Customer Discount! Save 25% off at AC Lens. Enter coupon code YR20AVQB at checkout. Offer ends 9/28/2015. Some exceptions apply. See site for details.
Vision Direct: $29.99; Called "Blood Red"; 20% off when you use code VERYSCARY.
Coastal: Currently not selling the contacts.
This is a great video that shows what the red contacts look like when you put them in:
Some descriptions from Coastal on their gold and red contacts:
"These Twilight contact lenses will give you the seductive, golden amber eyes that you need to complete your vampire costume. Whether you want to be desirable like Edward Cullen, beautiful like Rosalie, graceful like Alice, or strong like Emmett, our Twilight contacts will give you that perfect finishing touch."
"Vampire Red special effects contact lenses are a deep blood-red color, making them the perfect finishing touch to your Dracula costume. Great for Halloween!"