Twilight Fans! Find the best Twilight merchandise, collectibles, clothes, jewelry, and more. Disclosure: We make a commission off of some of the links.
I've heard that in the Twilight movie, all of the Cullen family members wear the Cullen Family Crest in various ways. Hot Topic now has a Twilight Cullen Crest Tee. Although it is only available in limited sizes right now, hopefully we will see it in more sizes soon. This is an officially licensed shirt, so the crest should be identical to the ones in the movie.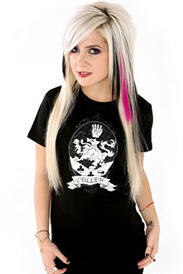 The shirt is black with the Cullen Crest on the front in white and the Twilight logo on the back. It is selling for $24.00 at the time of this post. You can check out all of the officially licensed Twilight shirts at Hot Topic.