Twilight Fans! Find the best Twilight merchandise, collectibles, clothes, jewelry, and more. Disclosure: We make a commission off of some of the links.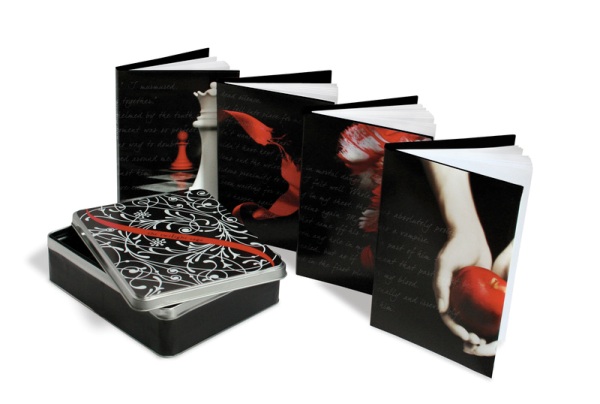 Twilight publisher Little, Brown has released new official Twilight merchandise, the Twilight Journals. Here's a description:
"The Twilight Journals set includes four gorgeous journals packaged in a collectible keepsake tin, inspired by Twilight, New Moon, Eclipse and Breaking Dawn. Each journal features the beautiful and instantly-recognizable Twilight Saga cover art and is fully-designed throughout with images and decorative quotes from each of the books, as well as some of the classic works of literature that inspired them."
The journals are available today, October 13, from most book retailers. Click here to order the Twilight Journals from Amazon, click here to order the Twilight Journals from Barnes & Noble, or click here to order the Twilight Journals from Borders. The retail price is $24.99, but you can get them for as low as $13.49 at Amazon. Remember that most ship free with $25 and Borders will ship for free to your local store.