Twilight Fans! Find the best Twilight merchandise, collectibles, clothes, jewelry, and more. Disclosure: We make a commission off of some of the links.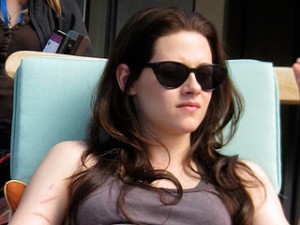 Bella was sporting some cool cat eye sunglasses in Twilight Eclipse. However, every pair that I could find that looked anything like them was too expensive until recently. Check out this pair from Sunglass Warehouse:

SW Cat Eye Style #9136
Channel your favorite retro celeb with our cat eye sunglasses. The lightweight plastic frame is comfortable to wear, while the lenses provide UV400 protection against harmful rays.
The best part? The sunglasses are less than $13!
Here are a couple of others in different colors that are similar and also less than $13:

SW Cat Eye Style #177
These shades are one part sporty, one part fashion. The cat-eye frame holds UV400 protected lenses, while each temple includes a metal adornment for some extra wow factor.

SW Cat Eye Style #9100
These modern cat-eye sunglasses have oversized lenses and a dainty plastic frame. UV400 protection keeps you safe from ultra violet rays. Similar to a pair recently spotted on Christina Aguilera.
Any of these would be great for a Bella costume, especially if you are going to put something together for the Twilight Eclipse DVD release in December. Or, if you just want to get Bella's style, choose one of the sunglasses that is similar in style but different in color. At this price, you can afford multiple pairs!