Twilight Fans! Find the best Twilight merchandise, collectibles, clothes, jewelry, and more. Disclosure: We make a commission off of some of the links.
Looking for the perfect addition to your Twilight costume? Change your eye color with vampire contacts. Whether you are looking for the "thirsty" red vampire eyes, the golden Cullen family eyes, or black out eyes to look wolf-like, you can find some interesting options.
These are our favorite of all of them, the red vampire contacts: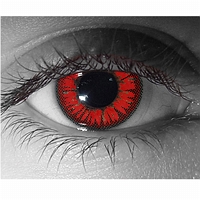 You can find the red contacts, gold vampire contacts, and the various different wolf contacts at most online contact stores. Here are our favorites:
ACLens: $26.06 on sale; Called "Vampire Red" and "Edward Cullen Gold" on their site; Free Shipping on Orders over $99. Save $5 on $50 when you use code ACLS5 in the instructions section of your order.
Vision Direct: $29.99; Called "New Moon" and "Eclipse" on their site; 25% off and free shipping over $99 when you use code VERYSCARY.
Coastal: $24.99; Called "Gold Vampire" and "Vampire Red" on their site; 10% off and free shipping using code SPOOKY (ends 9/30)
You do need to have a prescription when you place your order. Be sure to leave enough time for shipping so that you have them in plenty of time to wear with your costume.