Twilight Fans! Find the best Twilight merchandise, collectibles, clothes, jewelry, and more. Disclosure: We make a commission off of some of the links.
Considering Twilight vampire contacts? Two big events are coming up where you might be thinking about dressing up as one of the Twilight characters–the Breaking Dawn Part 2 Movie release and Halloween.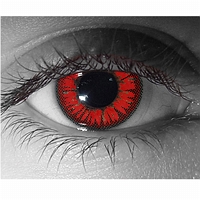 You can pick from a lot of different outfits to try to look like specific Twilight characters in different movies. You can also use a little bit of powder and sparkle to achieve their skin color. But the one thing that really makes the Twilight costume is a pair of contacts.
We've scoped out three of the major online contact retailers to see which has the best deals. We looked for both the "vegetarian vampire" gold color as well as the "hungry vampire" red. All of the merchants had basically similar contacts that fit into both categories. Below is a video that shows just how well the contacts cover your eyes so that you can get a true gold or red eye look.
Although I'm focusing only on the vampires below, you can also get wolf "yellow" contacts from each of these stores.
ACLens: $26.06 on sale; Called "Vampire Red" and "Edward Cullen Gold"; Free Shipping on Orders over $99. Save $5 on $50 when you use code ACLS5 in the instructions section of your order.
Vision Direct: $29.99; Called "New Moon" and "Eclipse"; 25% off and free shipping over $99 when you use code VERYSCARY.
Coastal: $24.99; Called "Gold Vampire" and "Vampire Red"; 10% off and free shipping using code SPOOKY (ends 9/30)
Be sure to read the fine print for each merchant to see how long shipping will be because you will want to be sure that they are going to arrive before you plan to wear your Twilight costume.
Do you need a prescription to buy costume contacts? Yes! Under U.S. federal law, you need a prescription. When you place an order online, the seller will contact your doctor for verification. If the doctor does not respond within 8 hours, the contact lens sale will be completed.