Twilight Fans! Find the best Twilight merchandise, collectibles, clothes, jewelry, and more. Disclosure: We make a commission off of some of the links.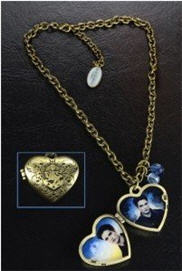 If you are planning on seeing Breaking Dawn this weekend and want to order cool merchandise from Amazon for the premiere, now is your last chance. You can still get 1 or 2 day shipping at a reasonable cost (free if you are using Amazon Prime) so that you can get your purchase by Thursday or Friday night. Some of our favorite items on Amazon include:
Breaking Dawn Part 2 Bag Clip
Breaking Dawn Bookmark
Bella's Engagement Ring and Wedding Band set
Stickers
Renesmee Prop Bracelet
Wire Cuff with Cullen Crest
Visit the Breaking Dawn section of Amazon right now to see the whole selection and place your orders quickly!
Will you be seeing Breaking Dawn this weekend? Leave a message telling us when!