Twilight Fans! Find the best Twilight merchandise, collectibles, clothes, jewelry, and more. Disclosure: We make a commission off of some of the links.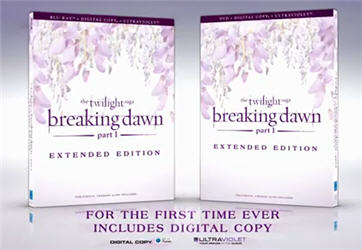 Summit Entertainment announced yesterday that a new Blu-ray Disc of Twilight Saga Breaking Dawn will be released in March that will include 8 minutes of completely new footage. If you recall, there were a lot of parts of the book that were edited out of the movie for the sake of time. Some of those will be extended in the new version. Here are more details from the official press release:
Santa Monica, CA (January 7, 2013) – Here is the chance to discover even more of the blockbuster film when The Twilight Saga: Breaking Dawn – Part 1 Extended Edition, featuring eight minutes of never-before-seen footage, debuts only on Blu-ray Disc (plus Digital Copy and UV), DVD (plus Digital Copy and UV) and Digital Download on Saturday March 2nd from Summit Entertainment, a LIONSGATE company. Now with eight minutes of new and extended scenes added back into the film by Director Bill Condon, along with his optional audio commentary, fans can delve deeper into the epic series they adore. Experience the timeless romance and drama in a whole new way when The Twilight Saga: Breaking Dawn – Part 1 Extended Edition, featuring the original theatrical version and the all-new extended edition with optional audio commentary from the director, arrives on Blu-ray Disc and DVD for the suggested retail price of $29.99 and $22.98, respectively.
"As Twilight series devotees know, there was a lot of ground to cover in adapting Breaking Dawn to the screen," said Condon. "Between the wedding, the honeymoon, the birth, and everything in between, naturally there were things that didn't make it into our final cut. But I wanted to make sure that for all the Twihards out there, there was a chance to see some of these cut scenes – several of which are fan favorites from the book."
The Twilight Saga Breaking Dawn Part 1 Extended Edition goes on sale March 2, 2013.