Twilight Fans! Find the best Twilight merchandise, collectibles, clothes, jewelry, and more. Disclosure: We make a commission off of some of the links.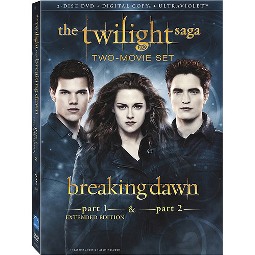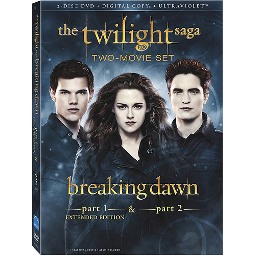 Wal-Mart has some great deals right now on Twilight items. First, you can get the Twilight Saga Breaking Dawn Part 1 AND 2 set for only $22.96. Includes DVDs plus Ultraviolet plus Digital Copy. You get free shipping and it ships on March 2.
They also have a Special Edition Set of The Twilight Saga Breaking Dawn Part 1 on sale for $19.96.
Lastly (and this is really unique for Twilight fans), get the Music Videos and Performances from the Twilight Saga Soundtracks for only $10. It includes music from Twilight, New Moon, and Eclipse, never-before-seen music videos, and love performances. Enjoy songs from Muse, Paramore, Cee-Lo Green, Collective Soul, and more.