Twilight Fans! Find the best Twilight merchandise, collectibles, clothes, jewelry, and more. Disclosure: We make a commission off of some of the links.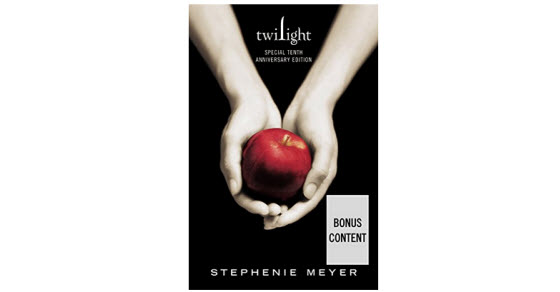 It's hard to believe that Twilight is approaching its 10th anniversary. The 4-book series has spawned a novella, 5 movies, graphic novels, online movies, and more. The books themselves have sold over 100 million copies worldwide.
Now in celebration of those 10 years, Twilight is being re-released on October 6 and will include exclusive bonus content. In addition, author Stephenie Meyer will be participating in upcoming book signings and New York Comic-Con.
"It's amazing to me that 10 years have passed since Twilight was first published. For me, this anniversary is a celebration of the fans, with all of their incredible passion and dedication. I'm excited to get to spend time with them again," Meyer said.
We don't know yet what the "bonus" content will include, but there could be a lot of it considering how much has come out since the original book release. You can pre-order Twilight Tenth Anniversary Edition at Amazon now.
What would YOU like to see in there?