Twilight Fans! Find the best Twilight merchandise, collectibles, clothes, jewelry, and more. Disclosure: We make a commission off of some of the links.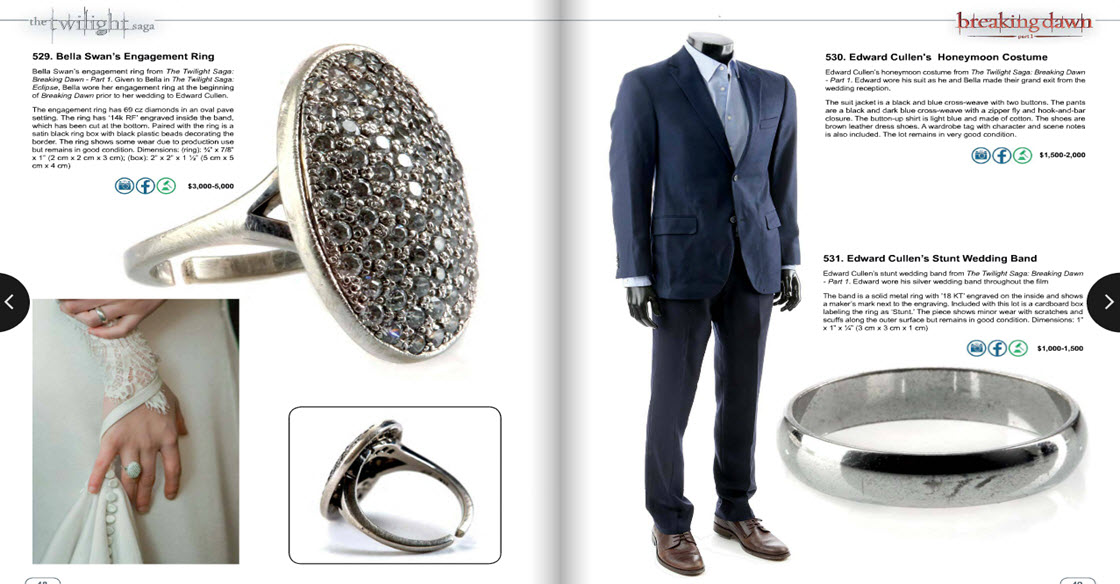 Prop Store and Summit Entertainment will be having a 2 day live auction of props, costumes, and sets pieces from the 5 Twilight Saga movies. Although the actual auction will be held at the TCL Chinese Theatres in Hollywood, you can bid online and watch through a live-stream.
The items up for auction will AMAZE true Twilight Fans. A lot of full costumes are up for auction but also items like:
Bella's Charm Bracelet (with the wolf and the heart)
Edward's Crest Cuff
Bella's wedding hairpin
Bella's engagement ring (probably one of the most sought after items!!)
Charlie's Chief of Police Badge
Aro's Volturi Carved Wood Throne
Cullen House Graduation Cap Display
Jacob Black's Motorcycle
Bella's wedding bouquet
That's just the start because there are over 900 items total! Estimated sale prices are included on the site. All items will come with a Certificate of Authenticity. You must register in advance if you think you want to bid. Estimated prices start as low as $100 for some of the items, however the actual bidding will start at only $10. So you may get lucky and get some of the items for under $100.
According to the FAQ, they will ship the items worldwide and you can get automatic shipping quotes through a button at the top of each listing. Keep in mind that a 20% "Buyer's Premium" will be added to all winning bids.
To see all of the items, visit the Twilight Saga Auction site and download the two-volume catalog via PDF or an "enhanced electronic document" that give yous extra links to images, videos, and descriptions.