Twilight Fans! Find the best Twilight merchandise, collectibles, clothes, jewelry, and more. Disclosure: We make a commission off of some of the links.
Looking for Twilight items that you won't find in the stores? Check out the Twilight Mugs at CafePress. You can get some of your favorite designs with the Twilight character names, quotes, and book cover. Depending on the design, you might be able to get it printed on a ceramic travel mug, small mug, large mug, or stein. Here's an example of the Team Edward Ceramic Mug: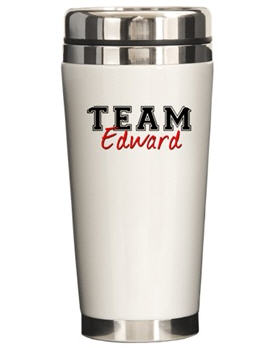 Some of the quotes that you can get on the mugs include: "What if I'm the bad guy?", "I'm betting on Alice," and "Do I dazzle you?". There are some cute images that say "Team Edward", "Team Jacob," and "Bite Me." Pretty much anything you could want!
Visit CafePress today and you will find a wide variety of Twilight mugs, with new Twilight mugs being added frequently.