Twilight Fans! Find the best Twilight merchandise, collectibles, clothes, jewelry, and more. Disclosure: We make a commission off of some of the links.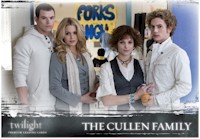 I've been working on getting more details about the new Twilight Premium Trading Cards. According to the Inkworks website, the cards will be released in November. The 72-card base set will include cards with scenes from the Twilight movie and Twilight character cards. However, there will also be bonus cards including cards titled "Always," "Protector," "Different," and "In Pursuit."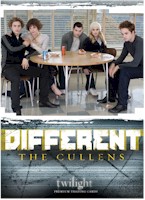 Although the above cards will be able to be purchased at retail stores, there will be additional "Autograph" and "Pieceworks" cards that can only be purchased at hobby stores, card, and comic book retailers. These cards feature the autographs of the Twilight cast members as well as information about pieces of the costumes worn by the Twilight characters in the movie.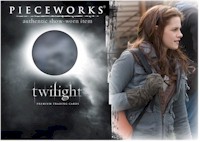 What I love about these cards are that there are images different than the standard Bella and Edward images that we have been seeing all over the place. As an Alice fan, I love the pictures of the full Cullen family. Looking for a comic store to buy from so that you have a chance at getting some of the bonus cards? You can pre-order your Twilight Trading Card single packs at Things From Another World for a limited time. The suggested retail price is $3.49, but TFAW is currently selling them for only $3.00 each.