Twilight Fans! Find the best Twilight merchandise, collectibles, clothes, jewelry, and more. Disclosure: We make a commission off of some of the links.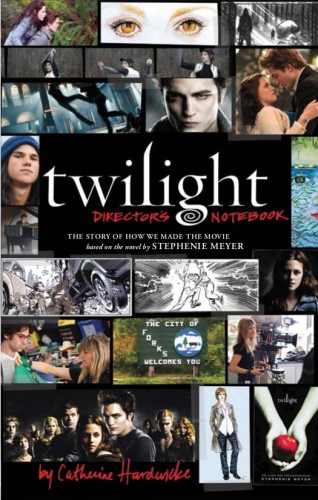 Many of you have been asking me about preording Twilight: Director's Notebook by Catherine Hardwicke. Unfortunately, it does not yet look like anyone is taking preorders for it. Here is what I have been able to piece together about the book between the Stephenie Meyer website and MTV:
The book is essentially a look at the making of the Twilight movie from Catherine Hardwicke's perspective. It includes Hardwicke's notes about various aspects of the making of the moving, including casting and costumes.
Here is a blurb from the press release about the book's availability:
"Designed to replicate the director's own personal notebook that she kept on set, readers will discover the inside secrets on casting, location scouting and wardrobe to storyboard sketches, behind-the-scenes photographs, personal notes about Catherine's favorite scenes and much more. This one-of-a-kind experience for all Twilight fans will be released in hardcover for $17.99 with an announced first printing of 500,000 copies."
That's all that I know so far! As soon as I find out where we can order the book from, I will let you know.
Update: Terrific deal! You can now preorder this from Amazon for only $10.79. Click here for details!