Twilight Fans! Find the best Twilight merchandise, collectibles, clothes, jewelry, and more. Disclosure: We make a commission off of some of the links.
Summit Entertainment and Nordstrom have announced a partnership that will bring Twilight Sage New Moon clothes and accessories to Nordstrom stores in October.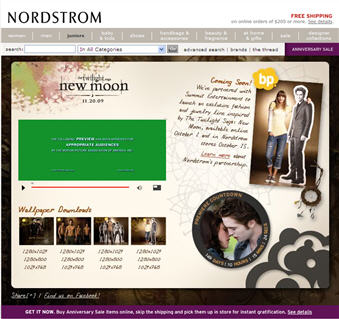 According to Nordstrom's press release, the apparel collection will include Team Edward and Team Edward shirts and hoodies as well as tunics and jackets inspired by the movie. The jewelry collection will include necklaces, bracelets, earrings, and key chains with Twilight-related charms.
The Nordstrom New Moon site is now accessible, but items will not go on sale on the site until October 1. Until then, you check out the site for downloadable wallpapers, a movie premiere countdown, and the movie preview.