Twilight Fans! Find the best Twilight merchandise, collectibles, clothes, jewelry, and more. Disclosure: We make a commission off of some of the links.
Each year there are some great items that would be perfect Christmas gifts for Twilight fans. Every year they tend to change as new movies and merchandise come out. Here are our favorites for 2011:
My favorite Twilight gift of all this year is the Breaking Dawn Bella's Wolf and Heart Bracelet from Hot Topic (currently $20.00).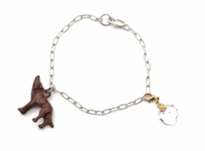 I love that fans of the Twilight books and movies will immediately recognize it as a replica of the one that Jacob gave to Bella (and Edward added to). However, people who have never seen the movies or read the books will just think that it is a cute charm bracelet.
My Hot Topic gift suggestion for those who are Team Edward is the Breaking Dawn Edward Throw.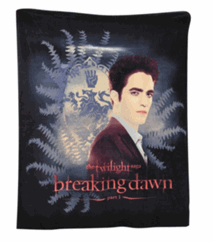 Why is this the perfect gift for an Edward fan? They can cuddle up with Edward now while they are still into the books and movies. Then someday when they are no longer into Twilight, they can still use the blanket for packing or layering. Everyone always needs blankets and most people don't care what they look like.
Check out the biggest selection of official Twilight merchandise on the Hot Topic Breaking Dawn page.
My next favorite Twilight gift EVERY year is a personalized Twilight shirt from Cafe Press. I get all of my Twilight shirts there, and my friends are now getting theirs there as well. Because you can customize the shirts, you can get them in almost any fit and color that you want–and they ship internationally! You can find a shirt that really fits the personality of the recipient at Cafe Press. Here s my current favorite:

("Isle Esme – Love, Beach, and Feathers")
Click here to see all of the Breaking Dawn shirts at Cafepress. Have fun creating your gift!
This next gift suggestion is great because it can be used by Twilight fans for non-Twilight purposes.
Once again, Fandango is offering limited edition Twilight gift cards. These make a terrific gift for any Twilight fan because they can be used to buy tickets for any movie available through Fandango. There are 8 different versions of the card available so you can pick the one that most suits your Twilight fan.
My last Twilight gift suggestion is something you probably haven't even heard of but your recipient could get a lot of use out of. The PRO Beauty Tools Twilight Limited Edition Sparkle Ceramic Styling Iron.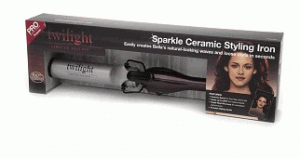 This curling iron is Twilight branded but that is pretty much all that it has to do with Twilight. It does say that it was the same one used on the set of Breaking Dawn and that you can get Bella's "voluminous soft curl" with it. Even if your hair doesn't end up looking like Bella's, it's still a good brand a decent price for being an official Twilight beauty item. It would make a great gift for a Twilight teen. They also have a flat iron, a hair dryer, and some nice Twilight brushes.
If all else fails, you can head to the Amazon Twilight store (yes, there is such a thing) to take a look at the reseller items. Sometimes you can get some great deals but often you end up paying a lot more because the items have not been in production for awhile and are limited.
What's on your Twilight Christmas list?