Twilight Fans! Find the best Twilight merchandise, collectibles, clothes, jewelry, and more. Disclosure: We make a commission off of some of the links.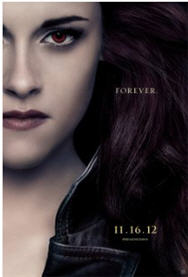 The much-hyped Twilight Breaking Dawn 2 Teaser has been released, and I have to say it is pretty disappointing. At only 10 seconds long, it doesn't contain much except for the fact that the Volturi are coming for Renesmee. We get quick glances of Edward, Bella, Jacob, Alice, and the Volturi, but not Renesmee.
Breaking Dawn 2 is set to be released November 16, 2012.
What do you think about the teaser? Does it make you more excited about the movie or leave you cold?