Twilight Fans! Find the best Twilight merchandise, collectibles, clothes, jewelry, and more. Disclosure: We make a commission off of some of the links.
Summit has released a brand new poster for the entire Twilight Saga and it is amazing!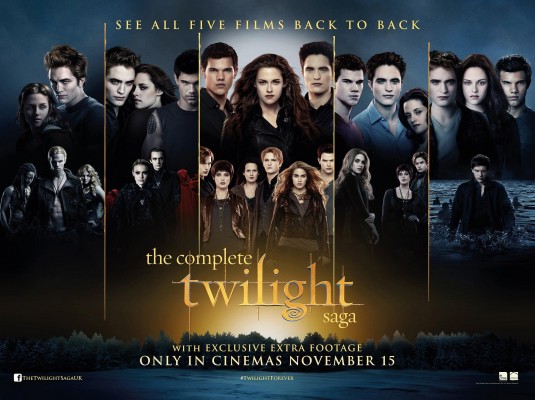 Not only is Breaking Dawn Part 2 set to release on November 16, but Summit will be re-releasing the previous four movies in the Twilight Saga to movie theatres on November 15. See Twilight, New Moon, Eclipse, and Breaking Dawn Part 1 back to back on the big screen right before you watch Twilight Saga Breaking Dawn Part 2.
The poster itself is just really cool and will surely be a collector's item for Twilight fans. I love the way you can see the progression of not only the characters but also the production value of the films from the original Twilight through to the end.
Tickets go on sale October 1 in most markets, and you can get them either through Fandango or your theatre's website.