Twilight Fans! Find the best Twilight merchandise, collectibles, clothes, jewelry, and more. Disclosure: We make a commission off of some of the links.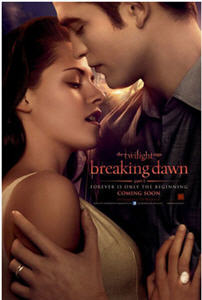 Twilight Saga Breaking Dawn 2 will be released November 16, and tickets are already starting to go on sale October 1. I know that we would all love to be there on opening night, but opening night tickets can be expensive!
To help out with that, we are running a contest to give away 2 Twilight Saga Breaking Dawn tickets. Because you might live anywhere in the United States (and we are in Indiana), the tickets will be given as a $25 gift card to your choice of AMC, Regal, Goodrich, or Fandango.
You can enter using the form below and each person can get up to 4 entries on the form when you 1) leave a comment on this blog post, 2) become a fan of our Facebook page, 3) Tweet about the contest, and 4) post about this contest on Facebook.
Sorry, you must be a U.S. resident age 18 or older to enter. But even if you are not, feel free to leave a comment on the post telling us your favorite thing about Twilight!
(Contest is in no way associated with or sponsored by Summit or Stephanie Meyer)