Twilight Fans! Find the best Twilight merchandise, collectibles, clothes, jewelry, and more. Disclosure: We make a commission off of some of the links.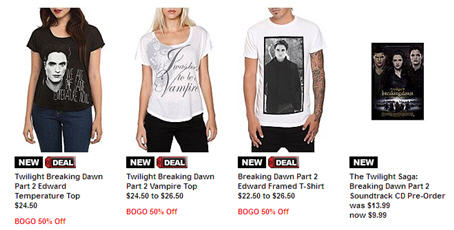 Not only does Hot Topic have some new merchandise for Twilight Saga Breaking Dawn, but some of it is a part of their BOGO 50% Off Sale (which is Buy One item, get the second item 50% off). We wrote about the Renesmee Bracelet earlier, but here are some other cool products:
Edward Framed T-Shirt (pictured above) (BOGO 50% Off)
Breaking Dawn Part 2 Cast Bookmark
Bella's Engagement and Wedding Ring Set (BOGO 50% Off)
Bella's Wristcuff with Cullen Crest (BOGO 50% Off)
Trio Lanyard with Charm
Pillowcases with either Jacob or Edward
Some of these are exclusive items that you will only find at Hot Topic and it is often easier to get them online than in stores because the selection is bigger. We'll let you know as more products get added!