Twilight Fans! Find the best Twilight merchandise, collectibles, clothes, jewelry, and more. Sign up on the right for our free newsletter to be notified about new Twilight Stuff. Thanks for visiting!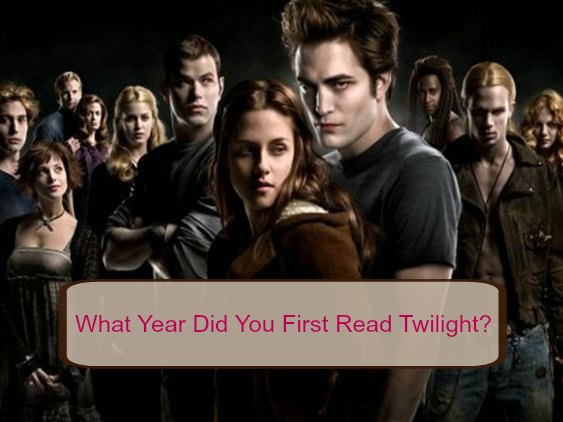 It's hard to believe that the first Twilight book was released almost 9 years ago. Since that time, 3 more novels plus a novella followed it as well as 5 movies, illustrated movie companions, soundtracks, thousands of fan fictions, and more.
We're wondering when CURRENT Twilight fans first read the book. Did you first read it back in 2005 and have loved it and followed it ever since? Or are you a second generation Twilight fan who was too young to read it back then but has fallen in love with the series recently?
Let us know in the poll below. Better yet, take the poll and leave a comment telling us why you still love Twilight after all these years.
(If the poll below doesn't work for you–try taking it over there in the left sidebar!)

Loading ...