Twilight Fans! Find the best Twilight merchandise, collectibles, clothes, jewelry, and more. Disclosure: We make a commission off of some of the links.
Hot Topic has added a couple of new Twilight Shirts featuring Edward. The first is a simple black shirt that has Edward's quote from the book and the movie "What if I'm not the hero?" on the front and "What if I'm the bad guy?" on the back. If you've seen the movie previews, you know that he just makes you melt when he says that!
The second Edward shirt is also black but has a graphic. It's called the "Twilight Edward Eyes Tee." The front features only Edward's eyes with the word "Twilight" over them. The back says "You are my life now." Hot!!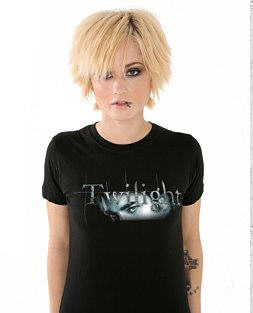 Hot Topic seems to be adding new licensed Twilight shirts every week lately. I'll be sure to keep an eye on them and let you know as I see more added. If you subscribe to my newsletter in the box over on the right sidebar, you'll automatically be notified when I add anything.