Twilight Fans! Find the best Twilight merchandise, collectibles, clothes, jewelry, and more. Disclosure: We make a commission off of some of the links.
I'm not usually a big fan of eBay, but when it comes to Twilight merchandise, you will not find a better selection at any site than on eBay. Whether you are looking for official Twilight merchandise or fan-made Twilight merchandise, eBay has it all. In fact, when I do a search right now on eBay for Twilight, I am finding over 14,000 items!!
So what you can you find on eBay? Everything from Twilight jewelry to shirts to bookmarks to posters. Plus stranger items like mosaics and Italian charm watches.
One of my friends recently purchased a Bella Bracelet from eBay and here is what she had to say about it:
"I ordered the "Bella bracelet" from the Twilight books from seller Sewbizusa on ebay (link 32518). It arrived well packaged, in a pouch perfect for gift giving. It was also well-covered in bubble wrap. The bracelet is of a nice quality-I was worried it would be heavy with the wood wolf, but it wasn't. It also came with a bonus Twilight fan girl bookmark."
She even provided me with a great picture of it after it arrived. You can see that it was packaged nicely.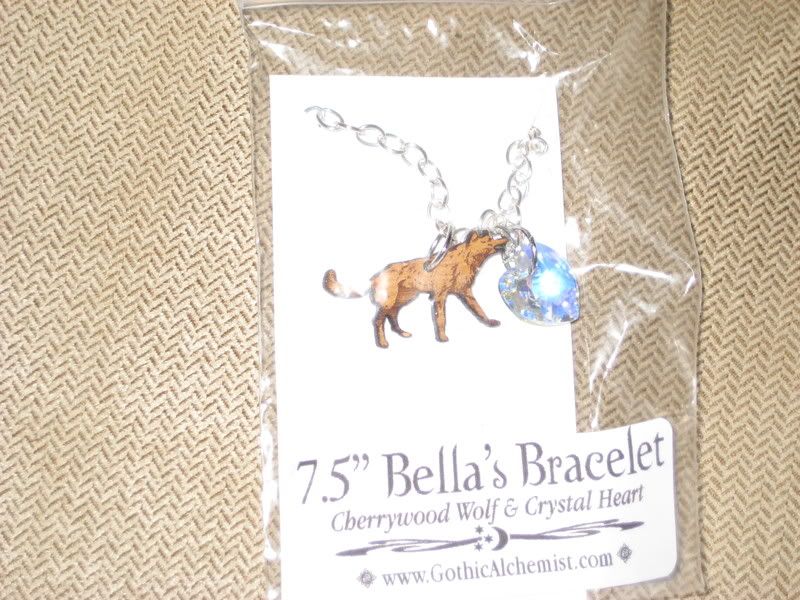 eBay also currently has official Bella Engagement Rings which are sold out and limited edition. Here's an example of one of them:
I don't know how long they will be available, but if you are looking for one of the sold out rings, you should definitely check there.
All in all, I think that the selection of Twilight merchandise on eBay is second to none. Some of the items are sold out in other places and some of the items are not even sold anywhere else. It's a great option for Twilight fans.