Twilight Fans! Find the best Twilight merchandise, collectibles, clothes, jewelry, and more. Disclosure: We make a commission off of some of the links.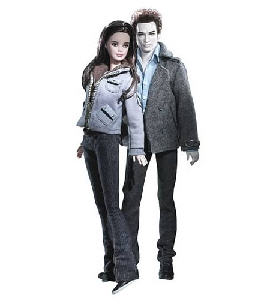 We've posted a couple of times about the Twilight Edward and Bella figurines. But now we are hearing that there are going to be actual Mattel Twilight Barbies. Supposedly there will be at least an Edward and a Bella.
Entertainment Earth is showing that you can preorder a "Twilight Movie Barbie Doll Assortment Case" for $87.99. Delivery is estimated for November 2009. They are called "Pink Label Barbie Dolls" and strangely enough, the "assortment" is 2 Edwards and 1 Bella.
Edited: We have now added the pictures of the Edward and Bella Barbie Dolls.
Edited: You can now purchase separately (on pre-order) the Twilight Edward Cullen Barbie or the Twilight Bella Swan Barbie for $29.99 each.