Twilight Fans! Find the best Twilight merchandise, collectibles, clothes, jewelry, and more. Disclosure: We make a commission off of some of the links.
With Halloween quickly approaching, everyone is looking for Twilight vampire contacts. We've posted before a few different options (see Twilight Costumes: Vampire Contacts) but recently found actual Twilight Contacts from Coastal Contacts. Here are the details from their site: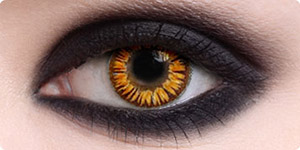 "These Twilight contact lenses will give you the seductive, golden amber eyes that you need to complete your vampire costume. Whether you want to be desirable like Edward Cullen, beautiful like Rosalie, graceful like Alice, or strong like Emmett, our Twilight contacts will give you that perfect finishing touch."
If you are planning on putting together a Twilight costume for Halloween or a New Moon Movie party, these contact lenses would be perfect!
If you are wondering if these really look right for Twilight, check out the video below. You'll be convinced!