Twilight Fans! Find the best Twilight merchandise, collectibles, clothes, jewelry, and more. Disclosure: We make a commission off of some of the links.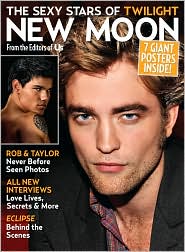 US Weekly has a sequel to its first Twilight Magazine. They have just released "The Sexy Stars of Twilight New Moon".
Here's a synopsis: "The editors of Us Weekly have pulled together another special, limited edition magazine completely dedicated to the Sexy Stars of Twilight's sequel, New Moon! Inside, you'll find 128 pages of pictures and posters featuring all the stars, including Robert Pattinson, Kristen Stewart and the series' newest heartthrob, Taylor Lautner. Go inside the lives and behind the scenes with your favorite stars."
The magazine is available on select store shelves as well as BarnesandNoble.com for $9.99.