Twilight Fans! Find the best Twilight merchandise, collectibles, clothes, jewelry, and more. Disclosure: We make a commission off of some of the links.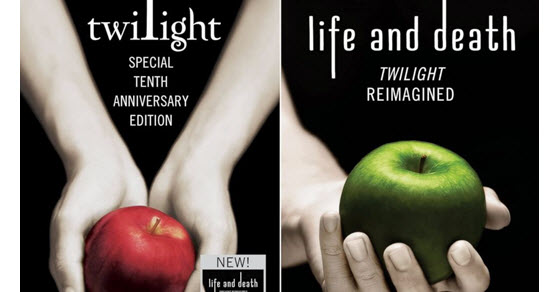 Big news this morning from Stephenie Meyer on the Today Show. We found out that included in the 400 page bonus content in the Twilight Special Tenth Anniversary Edition is a new Twilight novel rewritten with the genders reversed. The main characters become Beau, Edythe, and Julie.
Meyer explained that she didn't like the fact that many people saw Bella as a "damsel in distress" and that she hoped that the new version would help to see her as just a "person" in distress.
Meyer also addressed questions about whether characters like Katniss and Tris would exist if not for Twilight. Meyer doesn't take credit for the whole genre and said that she believes those stories would have still been told even without Twilight.
Will you read the new Life and Death: Twilight Reimagined? Does the 10th anniversary inspire you to read the whole series again? Do you wish instead of reversing the roles that Meyer would have stuck with writing the whole novel from Edward's perspective?
The new version is available at Amazon both in card copy and Kindle. The price is very close (only 54 cents more for the Hardcover) so if you can wait the few days to get it, it might be worth waiting!