Twilight Fans! Find the best Twilight merchandise, collectibles, clothes, jewelry, and more. Disclosure: We make a commission off of some of the links.

Everyone has been waiting for what have been dubbed the "Twilight Dolls" to appear on shelves. Bad news. It's going to be Spring before you can get them. The good news is that TONNER has now unveiled the images of the Edward and Bella Character Figures. Here's a shot of both Edward and Bella together: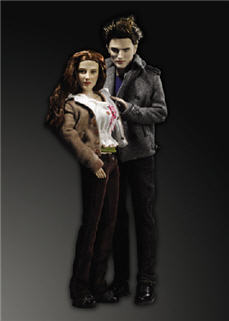 The new Twilight figures are modeled after Bella and Edward as depicted in the movie and are officially licensed by Summit. They stand 15″ and 17″ tall. Unfortunately, there are no prices on them yet. I'll keep an eye on the TONNER site and report back as soon as I see that they are available for purchase.