Twilight Fans! Find the best Twilight merchandise, collectibles, clothes, jewelry, and more. Disclosure: We make a commission off of some of the links.
According to the new official New Moon movie website, a Twilight Saga New Moon store has been launched on Amazon.com. Although the site does not yet have any merchandise that we have not yet seen, the fact that the store is linked to from the new site with the tag "Official Store" indicates that we should be seeing a lot of licensed Twilight and New Moon gear popping up there. Here's a look at the front page: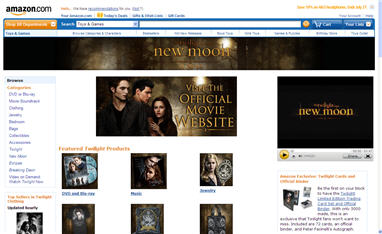 The page is broken down into "Featured Twilight Products," "Amazon Exclusives," "Bestsellers," "Top Sellers," and an index. You can also watch the New Moon preview directly on the site.
Some of the "Featured Twilight Products" include DVDs, music, jewelry, clothing, bedroom items, bags, collectibles, accessories, and books. Many of these are items that we have already posted about on BuyTwilightStuff.com Most of it still seems to be focused on Twilight, but be sure to check back because New Moon items are on their way!