Twilight Fans! Find the best Twilight merchandise, collectibles, clothes, jewelry, and more. Disclosure: We make a commission off of some of the links.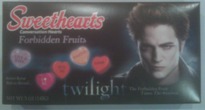 Everyone has been emailing me asking "Where can I buy the Twilight Sweetheart Conversation Hearts by Necco?" So far, I have only seen them in two places..fye and ebay. Because many of you do not have an fye in your area, I decided to make a quick video to show you the candy. I will have to say that although the boxes are really cute, I wouldn't buy them for the flavor of the candy! My little girls liked them, but I wasn't too keen on them myself.
The candy comes in four flavors: Orange Obsession, Tempting Apple, Secret Strawberry, and Passion Fruit. The Orange and Passion Fruit candies have a little bit of a glittery look to them. Other than that, they look like standard conversation hearts. There are many different sayings on them, hower. I came across things like "Bite Me," "Dazzle," "Lamb," "True Love," and "Always." Here's a peek at the candy:
Actually, as I sit here eating the open box, they are growing on me a bit. If you want to give them a try, be sure to sign up for our free newsletter (on the right sidebar) because we will be giving away a box this month. I'll also update this post as I find more places to buy them. For now, here are some Twilight candy listings on eBay.
No items matching your keywords were found.